For detailed instructions on how to start a virtual visit, click here.
**ATTENTION to All that will access – iPhone, Android, Windows and Mac users (12/17/2021)** Before we begin your virtual visit, we ask that you please update any devices you are wishing to use for your virtual call. Our virtual visit platform works best if your mobile device is on the latest update, and if your computer and browsers are as well. We are very sorry for the inconvenience, but we want to ensure that the call goes as smoothly as possible. Thank you.
**IMPORTANT NOTE: For safety reasons, patients are NOT permitted to engage in FPCA virtual visits while driving a vehicle. If the vehicle cannot be pulled over, the virtual visit will be rescheduled to another time.**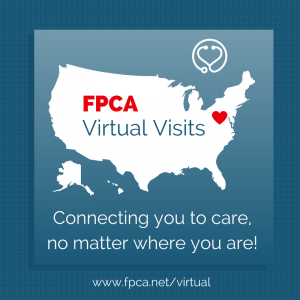 Click the link for your primary location to start a virtual visit:
Chrome or Safari are required for personal computers and Android devices. FPCA Virtual Visit is NOT compatible with Internet Explorer or Edge.
Virtual Visit Hours:
For virtual visit availability and hours at a specific location, please visit your FPCA office location's page.
First-time users, please read the following:
A virtual visit is similar to an office visit with your provider, but instead of coming to the office, you will be connected by a secure video link with your provider.  You will be able to see your provider and your provider will be able to see you (similar to FaceTime or Skype).  A webcam and microphone are required to conduct a virtual visit!
There are two types of virtual visit visits:
On-Demand Visit – this is similar to a "walk-in" visit in that you sign in and a provider who is available will see you.  These types of visits are available during our usual walk-in hours.
Scheduled Visits – this would be a visit that has been previously scheduled with your provider.  Before you have your scheduled visit, you will have to register at the link below.