Pumpkin Spice & Everything Nice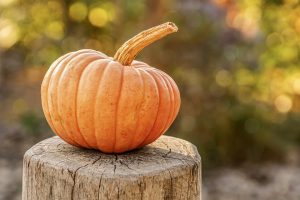 Truth be told, I'd trade all the pumpkin spice in the world for a little more summer, but not everyone agrees. Even the temperature seems to have dropped overnight. We've traded iced coffee for pumpkin lattes and the pumpkin craze has gotten out of control, right down to chicken wing sauce. Yes, you read that correctly. According to Fox Business, the top 5 most bizarre fall-themed products are pumpkin ale chicken wing sauce, pumpkin spice latte burger, pumpkin spice hummus shake, pumpkin spiced Pringles and a pumpkin and feta chicken wrap.
If we could phase out the sugar mixed in with all the decadent pumpkin confections, there might be some health benefits. Pumpkin itself is loaded with vitamin A which helps to boost immunity and is full of antioxidants that help to ward off heart disease. Believe it or not, pumpkin is 94% water! Cinnamon, often used to spice up pumpkin acts as an anti-inflammatory agent, essential to fighting infection and repairing tissue damage. The concern is the flavor and aroma causing the pumpkin mania is usually not made of natural ingredients therefore, what many are trying to validate as healthy, is actually devoid of nutrition. 
Let's investigate the natural benefits of pumpkin without all the additives. In one cup of cooked pumpkin (equivalent to 245 grams) this is what the nutritional label would read:
Calories: 49

Fat: 0.2 grams

Protein: 2 grams

Carbs: 12 grams

Fiber: 3 grams

Vitamin A: 245% of the Reference Daily Intake (RDI)

Vitamin C: 19% of the RDI

Potassium: 16% of the RDI

Copper: 11% of the RDI

Manganese: 11% of the RDI

Vitamin B2: 11% of the RDI

Vitamin E: 10% of the RDI

Iron: 8% of the RDI
When considering the valuable pumpkin qualities, it's much better to focus on using it in the right meals. Try including cubed pumpkin in with your roasted vegetables, or create a savory soup to warm up with on the expected cooler evenings, and even use it in or as a pasta replacement. There are many recipes and ideas out there to help incorporate healthy pumpkin into any meal of the day. https://www.countryliving.com/food-drinks/g4588/healthy-pumpkin-recipes/ is a great resource from breakfast to dessert!
~Shannon Hadeed