FPCA Still Participates with Major Insurances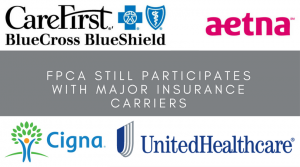 We have learned that letters have been sent by various insurers (CareFirst, United Healthcare, Cigna, and possibly others) that have caused confusion about our participation with their provider networks.  The letters discuss FPCA's change in Provider Identification Number, and wording in the letters seem to imply that we are no longer participating with their plan(s).   Please be assured that FPCA continues to participate with all of these insurance plans and there was never a gap in our relationship with any of these insurance companies.  
In February FPCA partnered with Privia Medical Group to help provide better care for you.  As a result of this partnership, our provider number for these carriers changed, which prompted all of them to (automatically) notify plan participants.  There was no change in your coverage or care with us – this was just a seamless number change.  Unfortunately, the correspondence from the carriers did not clearly convey this.
In summary, we continue to participate with all of these insurance provider networks, and there has been no change in our care or services.