Dementia's Dialect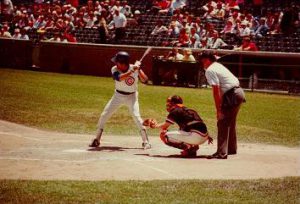 It's the bottom of the 10th inning in game 6 of the World Series. The team hasn't won in 68 years and are holding a 3 to 2 game lead, and up by 1 run. We all know what happens next. The ball gets shot straight down to first base where 16 year veteran, Bill Buckner attempts to catch it for the win and instead, the ball rolls right through his legs. That crucial mistake cost the Red Sox another 18 years without a World Series win. Although Bill wasn't just known for this costly mistake. He had a career 174 home runs while playing for many teams; Dodgers, Cubs, Red Sox, Angels, and the Royals. Chances are, if you were a baseball fan in the 70s-early 90s, you watched Bill play.
Sadly, Bill Buckner passed away at age 69 after a long battle with Lewy Body Dementia. He is one of many famous lives taken by one or another form of Dementia; former President Ronald Reagan, Perry Como, Rosa Parks, Charles Bronson, Norman Rockwell, Sugar Ray Robinson, are just a few. 
No one can prepare you for the reality of caring for a family member who suffers from the symptoms of Dementia. Cognitive decline, personality changes, the inability to understand basic life-known language, depression, confusion and disorientation are only some of the effects of Dementia. Alzheimer's makes up for 60-80% of Dementia cases. The primary cause of Dementia symptoms is damage to brain cells, particularly focused in the region where memory, judgment and movement function are controlled. Dementia patients have their own dialect in which their brain cannot understand former basic knowledge like a loved one's name to extreme forgetfulness such as, remembering how to swallow. 
There is no cure for Dementia. Treatment can help control some effects, like Occupational Therapy or Rehabilitation techniques to retrain the brain's pathway for mental and physical functioning, and there are some medications available to improve cognitive functioning, but the reality is Dementia is a devastating disease and caretakers experience true grief watching their loved one decline. The Alzheimer's Association has resources to help you, whether it be a basic understanding, looking for help and support, or getting involved, there is help out there. 
If you or your loved one is showing concerning signs of memory loss, don't wait. See your primary care doctor as soon as possible. For more information, visit https://www.alz.org/. 
~Shannon Hadeed