Bless You, Infinity!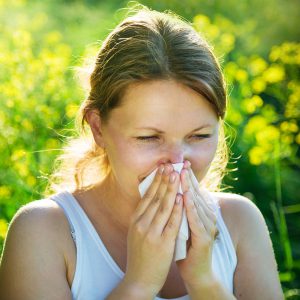 Just like the dust storms rolling through an old western movie, Maryland's allergy season is imminent. There's no denying you're an experienced resident of this beautiful state when the hood of your vehicle is peppered in mustard yellow! The blanket of pollen descends on patio tables, clusters appear in the corners of windows, and buying the high end tissue box becomes a priority to soothe sore noses and watery eyes.
After many of us spent the winter hibernating from the cold, the first thing on our minds is to open the windows! Anticipation of letting the sunshine radiate our homes and the crisp air push out all the somber winter feels is exhilarating! But, for the millions of Americans that suffer from allergies, hay fever is about to cause some major havoc. As the trees and grass begin to pollinate, allergy symptoms like itchy, watery eyes, runny noses, congestion and sneezing will creep in with a vengeance.
Obviously, the best way to prevent allergies is to avoid the irritants all together. It sounds a little like the comic about the patient who complains "it hurts when I do this" and the doctor replies "then, don't do that"! We all have foods we know we shouldn't be eating, but that doesn't always mean we pause, think logically and decline a heavenly doughnut or a delectable piece of pie, let's be honest. Thoughts of spring are usually overflowing with color. We seek out freshly opened seasonal greenhouses for flowers, plants, trees and if you relish in the opportunity to create beautiful landscaping around your home, but suffer through the effects of allergies, the American Academy of Allergy, Asthma and Immunology has a list of plants that are a little easier to work around.
Cactus

Cherry tree

Dahlia

Daisy

Geranium

Hibiscus

Iris

Magnolia

Roses

Snapdragon

Tulips         
It goes without question, there is a multitude of resources and over-the-counter options to aid you while spring is budding, but finding out your allergy triggers is the best approach to thwart symptoms. Your primary care provider here at FPCA can help you identify allergies and sensitivities, or send you to a specialist for in depth testing. Call us today!
~Shannon Hadeed