10,000 Steps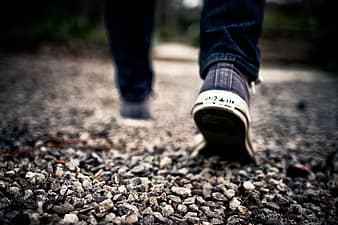 My new Apple Watch purchase has been quite amusing after being a devoted FitBit follower for years. I decided to swap the technology for a device that would correspond more accurately with my cell phone. I accidentally set my ideal sleep schedule not realizing it would alarm my wrist at 5:30am on a Saturday morning, and then I "pinged" my phone with the touch of a button and frantically ran around my room wondering what in the world was making such a loud sound. I've sent comical responses to text messages, turned the watch's flashlight on without knowing (in the middle of the night) and numerous other blunders I could confess to.
I don't want to make this an advertisement for a new watch, but I would like to share the accessibility to good health we are being offered by using these fitness tracking devices. As I've mentioned several times this year, the 2020 weight struggle is real. Recently, I convinced a few of my staff members to join me during our lunch break for an online 15 minute mile walk. (I have included the link below). Donning our masks, we socially distanced ourselves in the lobby and followed Leslie Sansone as she energetically walked us through a mile. It felt great! We made it tons of fun by yelling and clapping in Richard Simmons style, and reminiscing about the Jazzercise days. It's a step in the right direction to conquer the sedentary lifestyle many of us have become accustomed to during the pandemic.
I feel as though so many of us are not aware of the true benefits of a good walk. About three years ago, I went through a pretty big life change and needed a stress outlet. I would find myself venturing out to power walk through my little town, late in the evenings. I chose that time because it was when I'd run into the least amount of people. It may sound introverted, but I only had one goal. Stress reduction. The result was so much more than the single goal though. I became addicted to the alone time every night and dropped about 25 pounds. My mind and body felt ten years younger, my clothes fit better, my entire wellbeing was overall in much better shape!
Let's consider the proven benefits we might cultivate from a daily walk. We all know exercise is good for us and necessary to lose weight. There's no magic pill or diet scheme that will outshine the true and effective way to shed pounds than basic exercise. However, conditions such as high blood pressure and diabetes, have a multitude of available pharmaceutical treatments tried, tested and true. But, who wants to take medicine every day? I know I don't! Obviously, some things are out of reach for those who have underlying conditions that exercise alone won't fix, but I'm talking more directly to those of us who could potentially end up with these types of diseases and need to do everything in our power to prevent them in a healthy way!
There's a great article on Healthline that talks about the history of the 10,000 step idea that started over 55 years ago. It goes into some basic information about the benchmark and how it was developed by a scientist who marketed his own version of the pedometer originally created back in the 1700s. Unlike today's fitness tools, like the Fitbit or Apple Watch, it wasn't designed with GPS or music options, but it was incredibly successful during the training era around the 1964 Olympics. It was mainly just a 'recommendation', but it has stuck all these years. As a benchmark, it's been said that 10,000 steps is a goal we should strive to meet per day. Studies show this helps to lower blood pressure, increase blood flow throughout the body, stimulate better sleep patterns and even help with mental and emotional stability. 
There are many ways to reach your step goals. Start by parking further away from the grocery store entrance or taking the stairs instead of an elevator. Find a walking buddy, stroll around the neighborhood and get some fresh air, jump on a hiking team; nowadays you can even Hike for Beer (search that on Facebook. You're welcome). Don't wait for the new year to make this a goal. Do it now. There's no better day to make a commitment for better health than today. If you want to share your steps with us, comment on our Facebook page. You might even meet an accountability partner!
https://www.healthline.com/health-news/gdaily-walking-reduces-risk-of-diabetes-and-high-blood-pressure#Those-10,000-steps
~Shannon Hadeed