FPCA Telehealth
FPCA is now offering Telehealth visits!  A Telehealth visit allows you to see your provider from your home, office and anywhere in the United States with a personal computer or mobile device.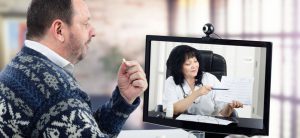 Click HERE to login
FPCA Telehealth is NOT compatible with Internet Explorer or Edge. Firefox or Chrome required.
(Internet Explorer, Edge and Safari are not compatible. A mobile app is available.)
Telehealth Hours:
Monday through Friday 8 am – 4 pm.
First time users, please read the following:
A Telehealth visit is similar to an office visit with your provider, but instead of coming to the office, you will be connected by a secure video link with your provider.  You will be able to see your provider and your provider will be able to see you (similar to FaceTime or Skype).
There are two types of telehealth visits:
On-Demand Visit – this is similar to a "walk-in" visit in that you sign in and a provider who is available will see you.  These types of visits are available during our usual walk-in hours.
Scheduled Visits – this would be a visit that has been previously scheduled with your provider.  Before you have your scheduled visit, you will have to register at the link below.
If you are new to Telehealth, please read the FAQs below, especially the item regarding billing.   At the bottom you can follow the link to register with FPCA connected care to get started
What types of visit may I use a Telehealth visit for?
Visits can be for both acute ("sick") visits and also for follow-up visits for various conditions.
Appropriate Sick visits would include:
Minor respiratory illness – such as sinusitis, minor cough, and congestion.  Do not use this if you have shortness of breath or asthma/lung disease, or you have a high fever.
Minor rashes such as poison ivy,  dry skin or minor skin irritations
Urinary tract infections (especially if we have seen you in the past for them)
Mild stomach flu
Mild heart burn
Minor injuries
Smoking cessation
Weight problems
Visits that may be appropriate for follow up care with your provider include:
High blood pressure
Depression/Anxiety
ADD
High Cholesterol
Reflux/heart burn
Migraine headaches
Acne
Erectile dysfunction
What you should NOT use Telehealth visits for?
Telehealth is not for emergencies.  You should not request and appointment for any serious or life threatening conditions.  Conditions that would not be appropriate for Telehealth visits would include:
Chest Pain
Heart symptoms such as palpitations
Seizures
Neurological symptoms that might suggest a stroke
Bleeding
Shortness of breath
Severe vomiting or diarrhea
Severe pain
Significant injuries with possible broken bone
Head injuries
Substance Abuse or Alcoholism
Severe depression or suicidal thinking
Is a Telehealth visit Secure?
We use a secure video link that is HIPAA compliant.
Can I get prescriptions?
If indicated, your provider will be able to prescribe medication that will be recorded in your chart.  We will not be able to prescribe controlled drugs such as narcotics (Percocet, Vicodin etc.) nor sedative medications such as valium, lorazepam, Xanax, etc.  If you are on a controlled drug on a regular basis, a Telehealth visit may be appropriate for some follow up visits, if your provider is comfortable with this.
How much will the visit cost and will you bill my insurance?
We will bill your insurance, but if it is not covered by your insurance you are responsible for paying the cost of the visit.   If your insurance denies payment for a Telehealth visit, you will be billed at our discounted cash payment fee.  These visits are usually $48 – $75 depending on the complexity of the visit, number of problems discussed, and amount of time needed to complete the visit.
What if my problems cannot be handled by the Telehealth visit?
We will make every effort to treat you during the Telehealth visit, but there may be times where a face-to-face visit is required for accurate diagnosis and treatment.  So during your Telehealth visit, you may be directed to schedule an appointment to be seen at our offices.   In such cases we will not charge for the Telehealth visit as long as you are seen in our office within during the time period recommended by the provider during the Telehealth visit.